A happy martyrdom to y'all,
A peanut walks into a bar and gets assaulted.
A baby seal walks into a club.
Wait.
What?
Never mind. That's the funny stuff out of the way for today.
A pictorial presentation in parts, if you will.
My lovely Gran was kind enough to lend to me, for a little while, her mother's recipe book. Which makes it my great-grandmother's recipe book.
And wow, does it make for interesting viewing. Most of the papers in it come from around 1947- 1951. And they come from magazines like 'Woman' and 'Woman's day', and newspapers like the Sydney Sun-Herald.

Seems she was a lot like me. She went to the trouble of buying a book and stuck the first two recipes in…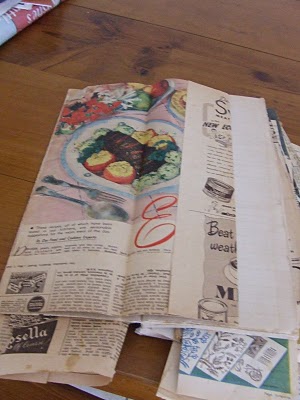 ..even write the heading 'Cakes' on one page….

..and then, it seems, continued on collecting recipes with the best of intentions, without ever getting around to sticking them in.

Like I said, a lot like me. But I'm kind of glad she didn't. Because the irony is that the most interesting bits of this book are the ones she didn't intend to be there. Like the articles…

..the handwritten recipes, strokes of personality on paper (her name was Sadie, so I'm assuming 'Sadie Fruit cake' was one of hers)…
..and the ads for services and products that have died out…
..and lots that are still around…

That's just a teaser for now. I'll publish Part Two tomorrow. And, to actually fulfill the purpose of the book, and in the spirit of the season, here's a 60 year old recipe for hot cross buns. Metric measurements at your own peril.