Ka-ching!
It's Blog Flogging Friday, readeroonies. If you haven't played before, please feel free to add your link down the bottom there. The whole idea is to get your blog out there, and find some other cool new blogs to read. If you need technical instructions, check out
this post from the dusty archives
.
Righto. In case you've missed it- not that that's possible with your local shopping centre looking like an elf on LSD went nuts in the deco department- 'tis the season to be
jolly
hemorrhage money, as
her Royal Woogness
so succinctly puts it. Christmas is a bitch. An expensive one.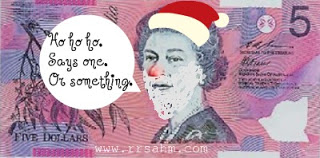 So. On that note, please expect another one or two of those
ghastly sponsored posts
to be appearing here on RRSAHM between now and Christmas. Along with all the usual crap-tastic good fun that I waffle. Because it's the time for buying stuff and selling stuff. And I am making tinsel while the fairy lights shine. So to speak. In fact, speaking of, have you
entered my giveaway
yet...?
But don't panic, mah jellybeans. Soon enough, it will be January, all the PR people will be on annual leave (probably, maybe, whatever), my inbox will be empty, and we'll be back to just me, talking smack and raving on about ridiculous things every day.
And by that time, you will preying for me to do a few sponsored posts, just to break the monotony of the randomness.
Whatever. I talk too much. Moving on.
Get ready.. get linky.... flog!!
The Rules.

Follow my blog, the Random Ramblings of a SAHM. I never seem to get to reading all the links here. But believe me, I try.

Not that any of this is my idea anyway- FYBF is MummyTime's brainbaby. I stole it.
Grab the bubbly button and post it on your sidebar.
Link your First Name and/or Blog Name and URL of your post or blog.
Add a short description (max of 125 chars). It could be a description of yourself, your blog or a teaser to your latest post. .
Follow at least 1 linkyer/blogger (Be nice and spread the love).
The list will be open for linkyers on Fridays (and for the foreigners Friday as well).
A new and fresh link list will open every Friday. And you will have to link up AGAIN. The previous link list does not carry over to the following week.
And lastly, have lotsa fun. I mean it. If I detect anyone not totally loving the awesomeness, I will bump you off the linky list.

(Joking)

(Kinda)

.