I had a reiki massage a few weeks ago. It was complimentary of RedBalloon. Choosing a reiki massage as my 'challenge' for this RedBalloon Mums round felt like a bit of a cop out. But after swimming with sharks, skydiving, canyoning, trapeze, and stunt driving…. I figured I deserved to take the soft option this time around.
It was one of the better decisions I've made. An hour and a half of massage, reiki and some crystal therapy, I was totally, completely blissed out, and stayed that way for days.
Not knowing much about reiki, I had no idea what to expect. Kristen, the massage therapist, showed up full of smiles and radiating positive energy. She came to me. Having a massage at home, not having to disrupt your zen when you go back into the real world once you've finished… there's a lot to be said for that.
Kristen started by giving me a half hour neck and shoulder massage, then turned me over onto my back and started the reiki. It was silent and peaceful and I may have have been half–dozing and occasionally snoring slightly. Also, I could vaguely hear my very naughty cat drinking from the bowl of water Kristen had put out for crystal cleansing purposes. That was slightly disconcerting.
Not that any of that matters. Google tells me that the aim of reiki is to raise your life force energy. Low life force energy makes you feel tired and stressed. A high life force energy allows you to feel healthier and happier.
I'm not sure how much I believe in that- I don't now enough about it to make any kind of call on its authenticity. All I can say is that I was more relaxed after my reiki treatment than I have been in months. It made me feel better physically- I'm more flexible and have more energy. It's been good for my mental health.
And the effect has been lasting- I've felt just that little bit better, in every way, ever since.
***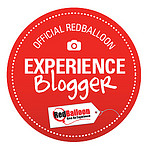 Thanks to the team at Digital Parents  Collective for inviting me to be a part of the RedBalloon Experience Program. Stay tuned- more awesomeness over the next few months. As always, all opinions are my own (because no one else would want them…?) however the experiences are complimentary.
And, just for jellybeans, there's a special offer for RRSAHM readers-
Receive $20 off when you spend $79 or more on any RedBalloon experience!

Visit 
www.redballoon.com.au
 & enter the code RedBlog14 at the checkout to receive your discount.
Code can only be used once per person. All purchases are subject to 
RedBalloon T&Cs
 – 
Expiry: 31/12/2014