This post is not sponsored.  It's just about a product I genuinely love, and the chance for you to win some for your kidlets.
I blogged a little while back about my daughter's love of make up, and the awesome natural play make-up stuff we'd been sent. Almost eighteen months later, Pure Poppet is still an absolute favourite toy in our house.
While the Chop is far too old and cool to let me face paint him these days, the Bump is still very much the girly girl she was back then- even more so now, perhaps. She does 'make-overs'  on herself, and me, and the cat if he sits still for long enough.
And she really, really likes making a mess.
Which is why we like Pure Poppet so much. It's pretty, sparkly eye shadow in colours for kids- pink and purple and green and yellow and blue. It washes out and off of everything- including faces- really easily. And as you can clearly see from the beautiful job the Bump has done on herself, she can even get it all over her eyelashes, and eyeballs themselves, without it being itchy or irritating.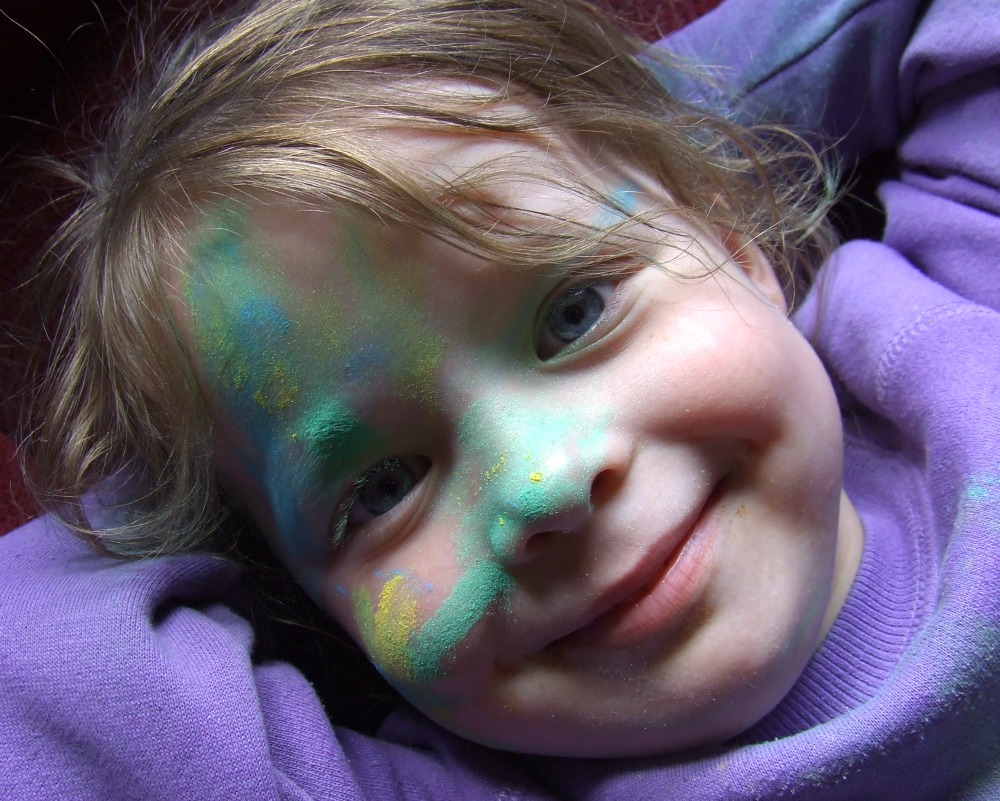 As well as that, Pure Poppet has other products that make make-up something kids can actually play with. They have perfume that's just lavender oil and water. They have bright, colourful play crayons to use with stencils. And they have water based nail polish that washes out of and off everything. It's completely non-toxic and kid friendly. The nail polish comes in pink and purple and is another one of the Bump's favourite. 
As I said, I genuinely love this brand because it's just a brilliant idea. It lets kids play tactical dress ups and be like adults, without the huge mess and nasty chemical stuff.
Last time I wrote about Pure Poppet, I had to take one jellybean off their almost perfect score for the price of the product. This time round, I'm giving it back. The range of products is now much bigger and sold in different sets which are much more affordable. And, given the hours of play we've had with our Pure Poppet stuff over the eighteen months, it's totally worth the money.
So that a big five out five jellybeans for Pure Poppet. For being the most awesome just-for-fun kids product out there.
***
While we're on being awesome, I've got a $100 Pure Poppet gift voucher to be won. Just fill in the form below and answer the question- What's messy, but fun? You've got until midnight Sunday 27th of October to enter.
The winner will be whichever answer I decide I like best, for whatever reason, at the time. The winner will be contacted by email and has 72 hours with which to respond. This one's open to Australian residents only. My decision is the final word and no bitching, whinging, nor compromising shall be entered into.