"Never regret thy fall, 
O Icarus of the fearless flight
For the greatest tragedy of them all
Is never to feel the burning light"
Oscar Wilde
***
I look at this new life that we're living. I assess what we have… what we've lost and what we've gained. There have been big shifts and little ones.
Earth shattering geographical changes- a new address, a new state. New words- kindergarten has become prep, scallops are potato cakes.
And then there's the subtle things. The differences in behaviour that are almost impossible to notice if you're not in the vortex of this little family of ours.
My children are closer to me, but not as close to each other. My son has blossomed and bloomed at his new school, his eyes opened to a far bigger world than what he once had. My daughter has become more flexible, more social. She is learning about change, the good and bad of it. The painful and the pleasant.
And I'm… older. More secure but somehow more scattered, much more of a mess. I feel loved and protected now. But that means dealing with a whole heap of stuff that just keeps coming. My mind vomits up all this crap, all this pain, all this stuff I never properly dealt with, and it just won't stop. I no longer feel on edge all the time, taut and strung with my own emotions.
But relaxing hurts the muscles of my mind. Loving someone again leaves me all kinds of vulnerable and that's difficult.
Sometimes everything hurts so much and I feel like a dick for giving up the little life we had in TinyTrainTown. I want to run screaming back to New South Wales and lose myself in a pain that might hurt less than healing does.
And then I look at what we've got. My kids will be the first to tell you they have a 'new daddy' and they love that. My son, especially. "Come with me," he tells his friends, "I have to show you my dad!" He's so proud of having one again. He's so happy to be just like everyone else. It's not something we've ever suggested to him- the whole idea of a 'new daddy' is something he's come up with all by himself. And for his sake, I'm happy to let him run with that.
My kids love this city, and they both affectionately call it 'ours'. Six months in and they no longer mourn for the life they had, even if sometimes I still do.
I'm still not sure if I've done the right thing, moving us all so far away. There's not much I know for sure at all. But I do know my children are loved and happy. And that change is inevitable. And that the experiences we've had since moving here have taught all of us a lot. About each other, and about ourselves. Maybe there is no right or wrong here. Maybe there isn't, when it comes to change and changing. Maybe what we've lost is worth what we've gained.
And, almost certainly, I'll never know for sure. So we just keep aiming for happy. And managing any collateral damage as we go.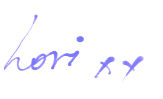 { 6 comments }