This month, RedBalloon sent me stunt driving in a Mini S Cooper at the Sydney DragWay. Because scaring the wits out of me is, apparently, totally the way we do things around here.
So many language warnings for this video- it's probably not a good one to watch with kidlets around. Forgive me. It's difficult not to swear when the car is doing 360′s and you're at the wheel.
In other news- Happy Valentine's Day, jellybeans. I do hope you're all getting more action than I am today.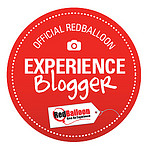 Thanks to the team at Digital Parents  Collective for inviting me to be a part of the RedBalloon Experience Program. Stay tuned- more awesomeness over the next few months. As always, all opinions are my own (because no one else would want them…?) however the experiences are complimentary.
And, to assist you even further, 
there's a special offer for RRSAHM readers- Spend $79 or more on any RedBalloon experience, and receive $20 off.
REDBLOG14 at the checkout to receive your discount.
Terms and Conditions: Offer valid until 30/06/2014. Promotional Code can
only be used once
per person. All purchases are subject to Red Balloon T's and C's.