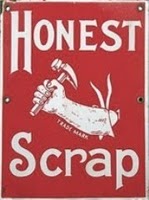 Howdy doody blogoroonies,
If you'll excuse me *ahem*, I must firstly apologise. Behind on the blogging, behind on the blog reading, way behind on the commenting. I'm still here, on the fringes. You can't scare me off that easily.
So, as I said, my very first blog award. Yay for me! And yay for the lovely Mrs P. over at A Study in Contradictions.
I have been bestowed with the Honest Crap Award. Whoops, no, sorry, that's the Honest Scrap Award. It means I get to write a list of ten random, interesting things you didn't know about me (which, let's face it, are all going to be pretty boring seeing as you all already know I was a clown), then share the blog award love with seven others. So, here goes.
1. I collect programs from musicals and stage shows. I've got other 30 of them, and my collection is growing- I have roped my friends into getting them for me whenever they go anywhere with programs (kudos to my mum for the program from Moss Vale Public School's Xmas show).
2. I'm three quarters university educated. Yep, that's right- a couple of thousand dollars in HECS, three and half years of my life, no degree to show for it. Good work, Lori.
3.I love having fresh flowers in my house. It doesn't matter if the house is dusty or untidy so long as there are flowers on the table.
4. I speak reasonably passable Auslan. That's Australian Sign Language- I can talk with my hands too!
5. I suck at maths. Like, seriously.
6. I was suspended from school for bringing a toy handgun in for a play we did in drama. And that was before Columbine.
7. I can juggle, but I get hit in the face playing netball. I think it's called selective unco–ness.
8. I don't eat vegetables. Ever. Because apparently potato doesn't count as a vegie, especially if it's fried.
9. I am a very bad driver. And my cars seem to fall apart as soon as I touch them.
10. I'm pretty tiny. Really. Up until I was about 16, I could buy clothes from the little kids department at Target. I probably still could, but glitter paint isn't my thing anymore.
And the Honest Scrap Award goes to **insert drumroll**
1. Just Me
2. Unperfect Life
3. Really?
4. Tiny Little Reveries
5. BM-I Don't Care (She's a newbie at this blog thang, but i love her).
Erm.. I'll leave it at that. Only because the other two blogs I would have nominated- Kellyansapansa and She Is Jade- have already been there, done this one.