I think being a parent involves having your heart tweaked and fractured every so often. It's impossible to protect yourself from your children's hurts. Your own coping strategies are less effective when it's someone else's pain.
My daughter attends her first day at daycare yesterday, and when I pick her up there is something not quite right about her; something off about my sunny, bubbly girl.
The reason was as basic and simple as it comes. She's toilet training, she had an accident at school. The other little girls wouldn't play with her.
Oh. Ouch. Ouch.
She misses her old school, she tells me, and her friends that were there.
Ouch, ouch, ouch.
***
My son is, if nothing else, a coper. He's stoic and strong and he rarely shows it when he's sad. I witness his pain in tiny slips of his innocent tongue- the things he says without realising he's saying anything at all.
Playing with his sister, doubled together on a ride-on bike, they're discussing imaginary destinations.
"I want to go to Heaven" says my boy. "With God. And Dad."
He thinks nothing of it. Both my children continue on with their game.
Ouch. Ouch, ouch, ouch, ouch, ouch.
***
At the moment, it's all exasperated by that general overwhelming feeling of sadness. I miss my mum. It's a hollow ache every time I think about it.
If I'm missing her so, I can only imagine how much my kids must be missing their Nonna. How much she must be missing them. We talk on the phone, and I hold back tears, seeing how happy my little ones are just to hear her voice.
Ouch. Ouch, ouch, ouch, ouch, ouch.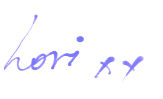 { 71 comments }