After skydiving, canyoning and trapeze lessons, I decided that January might the month to chill out and relax a bit and entice RedBalloon into giving me a totally different mission for the month.
A make up course in the Sydney CBD sounded just about perfect. Especially because it came with $95- the full cost of the course– reimbursed in Napoleon Perdis product.
Win.
Despite doing my usual half–an–hour late thing, Claire The Make-Up Chick was very lovely and didn't seem to mind much at all. She sat me down, let me relax, gave me some facial wipes for cleansing, asked me what in particular I wanted to learn today ("Uhhhhh…. Stuff….?") and we got started. ("Let me know if you want to have a go at doing any of this yourself, rather than me applying it," says Claire The Make Up Chick sunnily, and I think no thanks, I'll just sit here and be pampered, if that's ok with you…)
And I spend the next hour indulging in girls, fun things. Like learning to put on makeup so I look like an adult not a teenager on their way to a party. To mix yellow bases with beige–concealers to reflect light from underneath eyes. Which brushes go with what substances.
The best thing about this one was the non–intimidation factor. I rate 'attending a make up course' right up there 'going to a snooty hairdresser' in terms of uncomfortability and having–to–make–small–talk–edness. I almost always leave encounters such as that one feeling just a little bit not–cool–enough, and very much like sixteen year old Lori.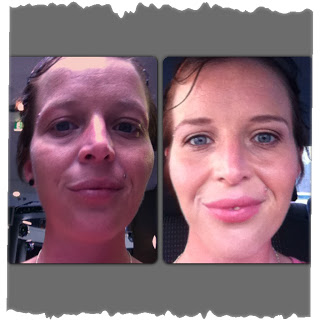 Before and After.
I'm happy to report that this time, I felt more like a normal person and less like a pin-head after this experience. Claire The Make Up Chick inquired as to how I normally did things when doing my own make up at home and I answered as honestly as my self–consciousness would allow, confessing to sins such as spreading concealer with my fingertips and applying lipstick straight from the tube. Claire The Make Up Chick didn't make me feel like an idiot at all. She actually presented the whole concept of 'making yourself up' as completely accessible for everyone– something along the lines of less is more, but paint should be fun and not too much fuss.
I got my ninety five bucks reimbursed on NP Primer (which is a cult product for a reason, evidently. This stuff is amazing and I could quite easily wear it every day without irritating my skin) and a pressed powder compact that I discovered, to my pleasure, is malleable enough to use with the finest of fan brushes and doesn't cake into laughter lines in order to make me look older, and possibly sadder, than I already am.
The Face Sheet.
Claire also filled out a 'Face Sheet' for me, with all the techniques and colors and names of the products she'd just used to make me look all glamorous. There was no pressure to purchase any of this stuff. But the Face Sheet is now pinned to the top of my bedroom mirror, and it's almost a ridiculously practical guide to have it on hand for future reference.
And, of course; I left the funky, stripy, black and white and gold storefront an hour later with a full, gorgeous face of makeup…
And nowhere to go except pick my kids up from daycare.
As you do.
Whatever. I adore make up. I love making myself up. I take immense pleasure in sitting cross-legged in front of a large mirror in my bedroom, the morning sun creating perfect lighting from every angle, my brush set unrolled in front of me, applying colors with feather touches and sweeping the density of each hue away again so only shadows of colors remain. I can easily sit like that, entranced in some sort of divine meditative state, for forty five minutes or more. I get lost in it (and, really, romanticism aside, this practice can quite possibly be held responsible for that fore-mentioned chronic lateness issue I've got going on here). I take a comfort, a steadiness, in the process and ritual of it.
There's something enchanting about wearing a mask every day, when most people have no idea it's there at all.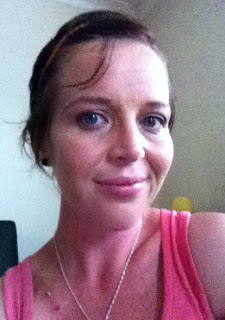 ***
me to be a part of the RedBalloon Experience Program. Stay tuned- more awesomeness over the

next few months

. As
always, all opinions are my own (because no one else would want them…?) however the experiences are
complimentary.
And, to assist you even further, 
there's a special offer for RRSAHM readers- Spend $79 or more on any RedBalloon experience, and receive $20 off.
REDBLOG14 at the checkout to receive your discount.
Terms and Conditions: Offer valid until 30/06/2014. Promotional Code can
only be used once
per person. All purchases are subject to Red Balloon T's and C's.