After chasing me halfway around the countryside, from Paradise to TinyTrainTown, RRSAHM Speak bands are finally in…
Initially inspired by this post, Speak, and the brain child of the lovely Mary, Speak bands have become quite a hit and I've had a lot of requests for more.
So… for your very own Speak band, to wear with purple pride…
Send a stamped, self addressed envelope to…
RRSAHM
PO Box 153
Picton NSW 2571
Australia
The bands are light and flexie, so the cost of regular postage, and I'm happy to post them back to where ever int he world you may be.
I would really love it if as many of you took me up on this offer as possible, and helped spread the word… all this pain, it can't have been in vain. If nothing else, I'll make sure of that.
***
On a different note, I was recently sent this absolutely beautiful piece of jewelery- it's a piece of Silver with Character by Koolaman Designs.
I got to choose the inscription myself…. in case you can't read that tiny silver stamped print, it says "All you need is love."
Because I'm a hopeless optimist, and a useless romantic, I still believe in that.
And what does a social media addict do when she thinks she might be ready to date again….? She goes online, of course.
The adventures of Lori, Internet Dating Goddess (or something like that)… coming soon.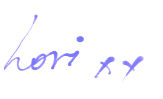 { 18 comments }