Last month on
RRSAHM saw the return of the Muse Wars
. It's not as violent as it may sound, I promise…
The object of the Muse Wars, originally the brain-baby of Mel at The Things I'd Tell You, is to get your written electricity sparking and encourage everyone to get creative… how many of us are blogging right now, who haven't written fiction since high school?
If you read that last sentence with a pang of regret for the tales you used to weave in your mind, just to pass time and for the simple fun of it; a happy nostalgia for the way your head used to feel populated with the most interesting kind of characters… this may just be the meme for you.
This Month's Image.
In the interest of variability and accessibility, I'm making a point of choosing completely random pictures, unrelated in any way… have a pizza.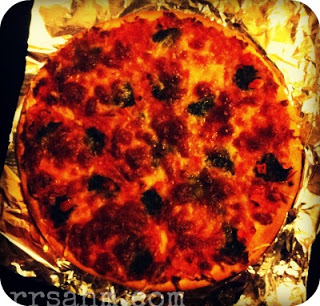 The Muse Wars, Round Two- The DownLow
The object of the game is- write a piece of fiction (poetry, short story, song, shopping list, whatever) taking your inspiration from the picture above. (Feel free to copy and paste it into your post.)
The experts say modern attention spans last
1000 words
, maximum

(keep that in mind)

. Past experience has taught us that it's easier to play the game if you don't read other people's stories first- but the choice is yours.
Publish your piece, return to this post and add your link to list below.
The linky list is open from now until Friday, 24th of August; and if we have fun we'll play this game with a new image every month.
Share the love– read other entries, leave a comment; grab the button below and paste it somewhere on your blog. If you like, you can have the entire linky list on your blog too.
Anyone can play The Muse Wars and all entries are welcome.

');
If you'd like this linky on your own post, grab the code from here….
My own pizza-based (heh) short story coming Wednesday, same jellybean place, same jellybean channel. Stay tuned.
And… happy writing!