I love anything that makes my kids happy.
Most parents, do I guess, and it feels self-indulgent to say "Me especially." But it also feels true. For my little boy in particular.
Give my son a something- more than an object, a memory, an experience, or a comfort.... and I'll be your jellybean for life.
Anyway. When the people at
Gift-A-Ball
offered to send me a freebie, I decided to address it personally to the Chop himself. And I was almost glad when we missed the postman- the ball was posted immediately, I actually didn't expect it to come so quickly- and had to go to the local PO to pick it up.
Give a pre-schooler a ticket for a parcel, with his very own name on it, and watch the excitement levels begin to rise. A process that was helped along by the also-excited post lady (it's always a slow day in the TinyTrainTown, remember?); who hid the package behind her back, and asked the Chop was he suuuuure he wanted it....?
Which, of course, he did. And how cool is this...? Not so much a package, as such....
.... but a ball.
No, that hasn't been unwrapped- the
Gift-A-Balls
actually come just like that. Fully inflated, unwrapped, and with the address written on the back.
Awesome idea, or what? Way awesome. The novelty of picking it up or having it delivered will knock the socks off kids of all ages. And, for bonus points, the balls are durable. I was expecting a thick balloon or beach ball style inflatable, but these are actual rubber balls that are going to survive a lot of being kicked and thrown around the garden. Although probably a good thing the
dog's not still here
, because I don't think it would survive her.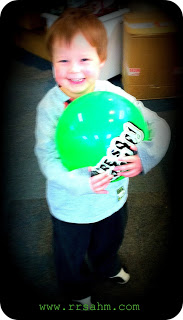 Anyways, morbidity aside... because I think this is a totally kick arse product, and because I adore you guys, I'm letting you in on the bestest, cheapest way to get a Gift-A-Ball... and
that's by clicking this link here
.
And... we're still doing what, here? Go, order, get bouncy. I'll see you all again tomorrow.
*While I received free product to trial and use in the future, no payment was made for this post.