It's been a while since I've been ghost hunting. Ghost hunting feeds into urban exploring, I suppose, and vice-versa. But I guess I stopped seeking out ghosts once it felt as though there was one looking over my shoulder all the time.
But I love mysteries and old things, and stories left untold. So when RedBalloon offered me a ghost tour of The Rocks, the oldest district in Sydney, I decided I should take them up on it.
Not that I was prepared to do this alone. I took The Most Amazing Man In The Universe with me. Because if I'm going to be scared, I might as well have someone to cling to.
That was the theory, anyway. Reality, as usual, didn't quite compete with my imagination. While 'interesting', 'informative', 'entertaining'  and 'well worth your two hours and forty seven bucks' are all adjectives I would use to describe this experience, 'scary' is probably not.
Our tour group consists of about thirty people, and is led by a guy who, in this occupation, has totally found his calling in life. 'GhostHost James', as he introduces himself to us, is decked out in a black hat and long black raincoat. He is a brilliant storyteller and his stories don't come across as scripted (though, admittedly, I'm sure they are). Add to that his comforting, rolling British accent, and we have ourselves one very appropriate tour guide.
To add to the feeling of creepy authenticity, on the night of our ghost tour it rains in Sydney; constant soaking sheets of water. The uneven, picked and pocketed sandstone streets of the Rocks are filled with puddles. The rain drips down over the brim of GhostHost James' hat as he leads us through bendy alleyways, down two hundred year old staircases and into tiny spaces that once used to be cellars and basements, with original fireplaces still tucked in the carved block corners of the rooms.
Ghost tours run rain, hail or shine, evidently. GhostHost James' hands out torches and big, white plastic ponchos. They're totally unfashionable and I keep tripping on mine every time I walk up a set of stairs. But, dammit, they're convenient, and dry, and practical. 
We walk around the Rocks in a huge circle, stopping at various places along the way. We see the the original morgue next to the Harbour- I've eaten lunch there a few times. We're shown the staircase where the well-known ghost of the Weeping Mother roams looking for her child, thrown off the cliff by a roaming criminal gang in the late 1800′s (apparently well-known, anyway. Not well-known enough for Google).
The tour group visits the basement of an undertaker who was murdered by his convict employee, and the fireplace where the employee attempted to burn his cut-up body. The site of two tragic twenty-first birthday parties, held forty years apart, with two twenty-one year olds dead in grisly manners. The foundations of the house where the Bubonic Plague first struck in Sydney.
It sounds creepy, does it not? But this is the Rocks, jellybeans. At eight o'clock on a Saturday night, there are people everywhere. The pubs and restaurants are swarming.
And out of a group of thirty people, there is always one who has to be a total douche by refusing to turn off their mobile phone, and ruining the punchline to all the storyteller's stories.
Anyway, douche aside, we got to explore parts of the Rocks that, while open to the public, aren't easy to find– if nothing else, the Rocks retains its original rabbit-warren infrastructure; and older buildings sit metres lower than current structures.
The final part of the tour was by far the most interesting. GhostHost James led us into the deceptively-named 'Windmill Cottage', which is actually located beneath a towering block of units. The remains of Windmill Cottage– including the kitchen, complete with its hearth and sink– were found buried metres underground, as the area was being excavated to build the apartments.
Windmill Cottage is stone-cold and bizarrely silent. We're told that if we are to see a ghost tonight, this will be the place for it. But were also told not to expect any ghosts. I'll definitely give GhostHost James credit for that- while big on the storytelling, he was not big on bullsh*t. He recounted things fairly matter-of-factly, didn't seem to be making stuff up (as he pointed out, had he been making it up, his tally of one ghost seen in three years would be pretty poor form). There was no promises of psychic abilities, nor any inspecting our photos for specks of dust that might just be orbs.
The focus of this ghost tour is definitely ghost stories, as opposed to 'ghost hunting'. Having said that, I'd totally recommend it for fun. But I will confess that the only ghosts I saw all night were a large number of white shrouded figures, following a man in black.
And as it turned out, that was just another tour group. Also dressed in those totally fashionable white plastic ponchos.
***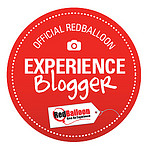 Thanks to the team at Digital Parents  Collective for inviting me to be a part of the RedBalloon Experience Program. Stay tuned- more awesomeness over the next few months. As always, all opinions are my own (because no one else would want them…?), however the experiences are complimentary.
And, just for jellbeans, 
there's a special offer for RRSAHM readers- Spend $79 or more on any RedBalloon experience, and receive $20 off.
REDBLOG14 at the checkout to receive your discount.
Terms and Conditions: Offer valid until 30/06/2014. Promotional Code can
only be used once
per person. All purchases are subject to Red Balloon T's and C's.