Mushi mushi,
Now, before I start, I know all my fellow Australians are preparing to de-Follow me for even daring to write the words 'Lara Bingle'. We are sick of her. She just keeps popping up in every publication every bloody day. And she's made her way onto my blog, too. Bitch.
So, if you're sick of her, close the browser window now. I won't hold it against you, promise.
I just think the whole thing is… dare I say it?… well, pretty funny. And I would like to share it with the whole two Americans (well, maybe there is a few more than that) that read my blog. Because one truly hopes the news has not made it to the US. Surely, they have more interesting things to talk about. If not, then there is obviously something seriously wrong with the world.
So, for the Yankees, here is the very brief story of Lara Bingle. Please excuse the messy YouTube embed-ments, they just don't go that well with Pyzam templates. OK? OK.
She began like this- you may have seen the ad. Bloody awful. That's her at the end. In the bikini. The blonde. Swearing. You can't miss her.
[youtube=http://www.youtube.com/watch?v=TebeNC-_VjA]
Not long after, she engaged in a torrid affair with this bloke. Footballer. Meathead. Married. Shame, shame, shame.

After that little debacle, it seemed she cleaned up her act, and found true lurrrve with this guy. Micheal Clarke. Cricketer. Not a media whore. All round nice bloke. Ain't they cute?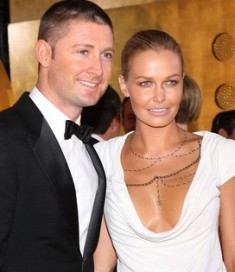 Lara and Micheal get engaged with a huge big sparkly ring, move into Micheal's $6 million flat, he buys her an Aston-Martin. As you do. That's how my relationship progressed, anyway. Everything is lovely. Lara occasionally crops up on the front cover of women's magazines, but that's OK. As a couple, they are very, very boring.
Until this happens.
* This photo has been removed due to me realizing what a dick I was to republish it in the first place. It took two years…  but I got it.*
Oops. Look like meathead married footballer is coming back to haunt her, 4 years on. Ah well, poor lass, can't hold that against her. And Micheal didn't, I don't think. I think what he had a problem with was this.
Yuh, that's his classy chick Lara, selling her side of the story to the very same magazine that published the shower pic in the first place. Hmmmm. Surely that has to be more to it than that?
Whatever, the details don't thrill me. What thrills me is this (sick, twisted woman that I am).
I love a big, messy, public break up.
And as far as they go, this one is awesome.
Micheal got the removals truck in in the middle of the day to cart all Lara's stuff out, with the paparazzi and media snapping away frantically. A couple of days before that, Lady Lara was seen flipping the paps the bird from the balcony of the apartment.
And the icing on the cake?
Yesterday, it was highly publicised in the media that there were plumbers searching the sewer pipes of the apartment, looking for a 'small but very valuable' piece of jewellery.
What a brilliant end to an absolute cracker of a break up.
Flushing your sparkler down the loo. Great work, Ms. Bingle. When I grow up, I wanna be just like you.