It's
PostNatal Depression Awareness Week
here is Australia.
I've been meaning to write this post, a post all about PND, for a week now… I juts haven't had the head space to write about it, to go back to somewhere that was so dark. I need so much emotional armor and resilience to go back there… I just don't have it right now.
Anyway, I've blogged about it in the Before. It remains one of my 'favorite' posts, though 'favorite' feels like a weird word to use.
I will say this… I thought I was so prepared. I thought I knew my own moods, the warning signs for the on and off depression I'd waded through for years.
I was wrong. PND is different. It blitzed past me, engulfed me without me knowing it. Because it's different. It doesn't feel like 'regular' depression. If you've suffered from depression before, you know you are at risk of PND. But you don't expect it to feel so totally alien, so engulfing. It catches you, unprepared. All you know is something feels different, something feels very wrong… but it can't be 'depression', right, because you know what that feels like, and this isn't it?
It's the tiredest, coldest, loneliest place in the world. I wouldn't wish it on my worst enemy.
If you have a tiny- or even not so tiny- baby, or if you're expecting one, if you are a dad or a mum- PND can effect anyone. It comes in all forms, all guises. And it takes you by suprise.
Reach out. Speak. You aren't alone, I promise. And it doesn't have to feel this way.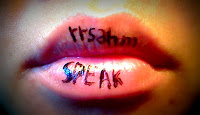 PANDA is available Mon- Fri, 9am- 7pm AEST on
1300 726 306
Or contact

LifeLine, on 13 11 14, 24 hours a day, 7 days a week.